There are three reasons for the world-class quality of our work…
Reason #1:
Our Staff! With a combined total of over 2 centuries of experience machining every conceivable material from steel to Ultem©, our Plant II staff includes specialists in CNC milling, CNC turning, fixturing, programming, and tool path and code generation using the latest CADCAM tools and techniques.  CAD capabilities include SolidWorks, AutoCAD, and Surfcam.
Reason #2:
The high quality of our work is our state-of-the-art equipment. This equipment includes vertical machining centers with up to 4-axis machining and up to a 30 x 16 x 28 work envelope, CNC lathes with up to 1.625" bar capacities and up to 6" chucking capacities, Tsugami CNC Swiss screw machines capable of 7-axis simultaneous machining, Mori Seiki and Emco-Meier bar-fed machining centers with subspindles and live tooling, and several cam-driven screw machines capable of high-volume production.
Reason #3:
For the outstanding quality of our work is our comprehensive and fully documented quality system. This ISO9001:2000 certified system is maintained by a full-time Quality Manager, who ensures that all gauges are NIST – traceably – calibrated, that all procedures are followed, and that all quality assurance documentation is completed. A copy of our Quality Manual is available upon request.
OEP Plant II's staff pride themselves on prompt, responsive customer service and competent technical support. The flexibility of our CNC equipment enables us to provide rapid turnarounds for established customers with emergency rush jobs. Our CAD/CAM-literate technical staff of three engineers can work with new customers through every phase of manufacture, from concept, design, and prototype to full production.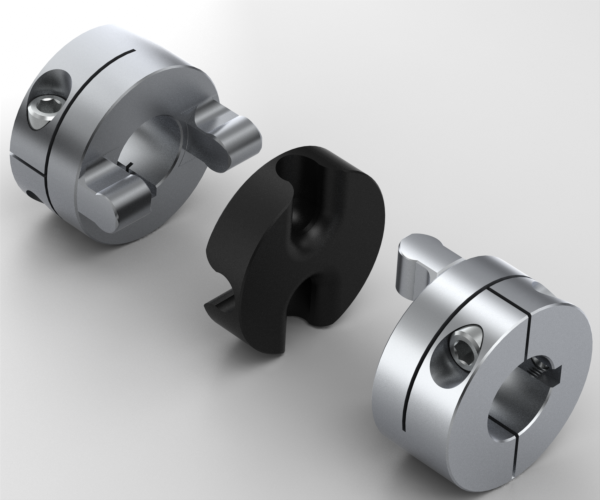 The flexible shaft coupling above was modeled by OEP using SolidWorks.
Some of the materials machined by OEP Machining:
Aluminum (including alloys 2011, 2024, 6061, 6063, 7075)
Brass (including alloys 260 and 360)
Bronze (including silicon bronze)
Sintered metals (inlcuding Oilite and 90% silver/10% graphite)
Steel (including alloys 1018, 12L14, 4140)
Stainless steel (including alloys 303, 316, 416, 440, 17-4, Cpnt. Sch. 20)
Beryllium copper
Copper
Delrin (acetyl homopolymer)
Acetyl copolymer
Ultem (both virgin 1000 and glass-fiber-reinforced 2300)
PEEK (both virgin and carbon-fiber-reinforced)
Torlon
PVC
Polycarbonate
Acrylic
Some of the post-machining finishing and processing that OEP Machining can provide:
Heat treating
Plating (including nickel, chrome, zinc, tin, silver, cadmium)
Anodizing (including hard anodizing, color anodizing)
Bead blasting
Buffing
Passivation
Some of the machining processes performed by OEP Machining:
Turning
Milling
Drilling
Boring
Tapping
Threading
Thread milling
Broaching
The assembly above was reverse-engineered by OEP for our consumer products customer and was fabricated completely by OEP, including all machining stampings and assembly.
Want to learn more about our equipment?
Click on the equipment type below to get more details!